Custom Products Made with Edible Insects
All of the custom products on EntoSource are customized by adding your logo.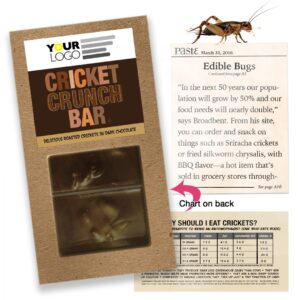 When you place your order, you will see an upload your logo button. Use that to upload your logo for each item even if it is the same logo for all items ordered.
Here are our current sales sheets:
The edible insects used in our products are farm raised for human consumption.
You may have noticed that insects are being discovered as the latest edgy food trend. Like Sushi recently, and even Lobster a hundred years ago, what was once not considered part of the American diet is going main stream. There are many reasons for insects' popularity as a food that are both emotional and logical. Not only do insects offer a new taste experience diners enjoy, the numbers back them up as being very healthy and one answer to our global warming dilemma. Insects are going from being the latest food trend in top restaurants worldwide to a viable solution to our current food security challenges.
Insects are as high in protein as meat with all of the essential amino acids. They are high in fiber and low in calories. They have as much iron as spinach and as much vitamin D as milk. They are a pre-biotic and are packed with Omega 3 and B vitamins. Edible insects are a healthy food source.
Our edible Insects are raised humanely and harvested in less time than other meat sources using significantly less fresh water and less arable land. They can be raised vertically in urban environments. They are non-gmo, use no pesticides, herbicides or hormones. They can be grown organic and gluten free.
Edible Insects are good for you and good for the planet.
What a great way to say thank you to your clients!